:D TB hotel at
Düsseldorf Airport
Düsseldorf Airport and the whole region are located in the center of Europe and in the middle of the industrial area of Germany. You can reach almost all other European metropolitan areas within 1 and a half hour. 18 million people are living in the catchment area of Düsseldorf International within a radius of 100 km (60 miles). On average, more than 55,000 people are visiting Düsseldorf International every single day.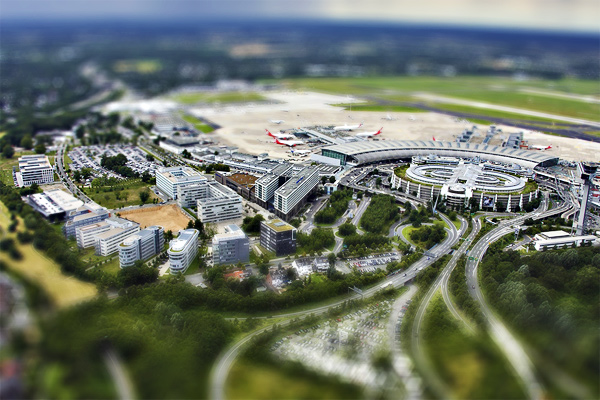 Dead on time to Düsseldorf's 725th anniversary we are proudly opening up the first indoor TB hotel at Germany's third largest airport.
Düsseldorf Airport is the most important hub of North-Rhine Westphalia. For many years as a hub for millions of passengers, it will now act as one of the most important hubs for all kinds of coins and travel bugs [*1]. With more than 190 destinations in more than 50 different countries, there's hardly any place in the world, you cannot reach from here.
The cache is located centrally and could be reached well, safe, and barrier-free in a few minutes. Of course service and security are our main concerns, and so the TB hotel is open for 24 hours a day, and under continuous video surveillance.
In order to reach the "security area", you need to answer one question:
In which year was the official inauguration of the airport?
N51° (???? * 9 - 630) / 1000
E06° (???? *24 - 331) / 1000
You should be able to provide the result of your investigation on request at all times!
[*1] Important reference for all Geocachers:
It is not allowed to place any items which may cause security concerns, including but not limited to knifes of all kinds, scissors, emery boards, other kinds of peaked or sharp objects, items containing irritant gas, tools, weapons or dummy weapons (squirt guns, water pistols etc), explosive agents and pyrotechnic material, munitions, lighters, drugs, alcohol and all kinds of illegal items.
The TB hotel will be monitored by airport security personnel exactly like all other areas of the airport.
Transport connection:
Air: about 220.000 flights
Road: Highway A 44
Train: ICE, IC, EC
Public transport at the terminal:
Local train (S-Bahn) S11
Bus SB51, 721, 760, and 896
Railway Station Düsseldorf Flughafen:
Local trains RE1, RE2, RE3, RE5, and RE6
By feet: via Kartäuserstraße passing the Kittelbachpark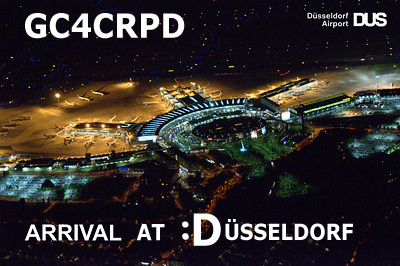 At the special request of the airport administration, there is now a banner for this cache. To embed it, please add this code to your profile:

<a href="https://coord.info/GC4CRPD" target="_blank">
<img src="https://ddf.catchthepoint.com/pics/gc4crpd/banner.jpg" border="0">
</a>